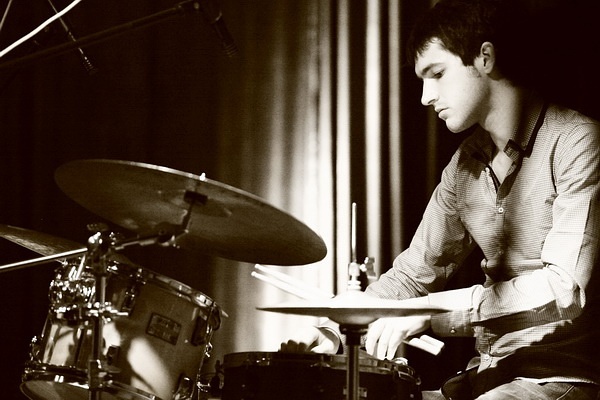 Cédric Hanriot Trio
法国France
8:00 pm-9:00 pm,15,Oct 2011
演出者 Artists
钢琴 Piano and laptop: Cédric Hanriot
鼓 Drums: Jean Baptiste Pinet
低音提琴 Double Bass: Bertrand Beruard
法国爵士钢琴演奏家兼作曲家 Cédric Hanriot 是美国伯克利音乐学院毕业的高材生,欧洲亚维侬爵士节的获奖者,并曾获 Enghien lesBains 爵士比赛二等奖。他才华洋溢,他绝妙的即兴技巧以及天赋异禀式的才能由其指间流淌出的音符而展露无疑。其乐队创作的风格多样, 摇摆乐、非洲音乐、拉丁乐、jungle、groove都是其涉及的音乐类型。
曾经与众多爵士大师们合作,其中包括迪迪?布赖特沃特,乔?洛瓦罗以及辛迪?布 莱克曼。在《法兰西故事》这张专辑里,他用爵士的节奏风格演绎了许多法国经典香颂(布莱尔,甘斯布,皮亚芙)以及许多其他原创音乐。
Mr Hanriot holds a Masters Degree in Electronic Engineering and Audio Signal Processing from the University of Nancy, France and a Degree in Professional Music from Berklee College of Music, Boston (USA).
Mr. Hanriot would generally be considered a latecomer to the world of music. After earning his Master's Degree in Electronics & Digital Audio Processing at the age of 21, his life took an unexpected turn as he sat at the piano for the first time in his life. Then at this late age – 21 years of age, he started studying music and playing the piano. Within only a few years, Fulbright recipient, French pianist pianist, composer, producer and arranger Cédric Hanriot has performed and recorded with luminaries such as drummer Terri Lyne Carrington (Stevie Wonder, Herbie Hancock), bass player John Patitucci (Sting, Wayne Shorter), bass player/singer Me'shell Ndegeocello, drummer Cindy Blackman (Lenny Kravitz), saxophonist Joe Lovano, Grammy Awards winning singer DeeDee Bridgewater to name a few. Cédric Hanriot has appeared at many prestigious performance venues worldwide including The Iridium New York(USA), the Vancouver International Jazz Festival (Canada), the Tanglewood International Jazz Festival (USA), the Universal Exposition 2010 (Shanghai, China) and the Jazz a Vienne Festival(F).
Mr Hanriot has also appeared at La Defense Jazz Festival Paris(F), Transe-Atlantique Festival (Morocco), at the famous NPR radio Talk Show "Says you" and the Victoria Jazz Festival (Canada).